Northwest Paintsmith is an EPA Certified Firm for Lead Paint Renovation.  We have all of the training and equipment necessary to safely and legally perform work on homes and businesses where lead has been determined to be present in prior coatings. It is highly recommended that home and business owners use a trained and certified lead renovator to eliminate potential health risks and hazards associated with lead exposure.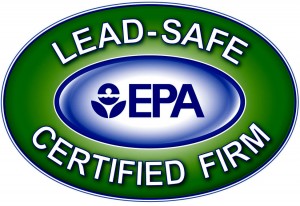 Many homes in our area were built prior to 1978 when the EPA banned the use of lead in residential coatings. Any home built prior to 1978 may or may not have lead present.
The primary focus for safely handling or working on lead bearing materials is safety for children and adults. Lead poisoning from lead based paints has been responsible for affecting more than one million children to date. Adverse health effects of lead exposure have included learning disabilities, behavioral problems, reduced cognitive functions, and speech delays.
We highly recommend reading the EPA's Renovate Right Brochure: http://www.epa.gov/lead/pubs/renovaterightbrochure.pdf to learn about safely renovating if lead is determined to be present.
A simple swab test can determine the absence or presence of lead within minutes.
Guidelines on how to safely deal with lead are available within the EPA Renovation, Repair, and Painting rule (RRP) took affect in 2010.
We offer Lead Paint Renovation in all of the communities in our service area, including Bremerton, Silverdale, Poulsbo and Port Orchard. Contact us  today to schedule an appointment with one of our expert lead-safe certified renovators. We want to help you keep and your family safe from lead paint!